Reduce risk and increase efficiency by integrating your electronic payments securely into SAP.
Managing disparate systems, time consuming manual reconciliation and risk of error are common issues when your SAP order-to-cash, accounts receivable and collections processes are not integrated into your e-payments ecosystem.
As businesses expand globally and drive further into digitalization, these challenges multiply, leaving companies to ask "is there a better way?" There is.
Delego's cloud-based solution seamlessly and securely integrates your SAP system with your payments ecosystem, allowing you to manage critical payment functions like authorization, settlement and reconciliation directly from your SAP system.
Learn how we transform SAP into a hub for your electronic payments
Unmatched security and flexibility
Our single-tenant platform provides unmatched security and flexibility, and integrates to our extensive global processor network supporting credit and debit card acceptance, eCheck and ACH, as well as alternative payments like PayPal and Amazon payments.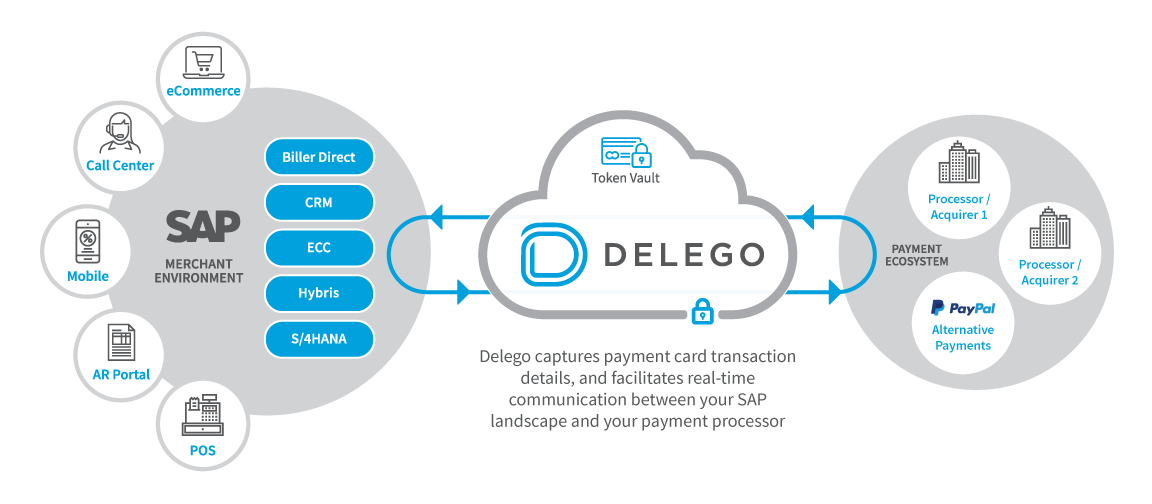 Delego Core, integration and security all-in-one.
Delego Core provides a unified platform to facilitate e-payment acceptance, SAP integration, and data security. Utilizing a private, single tenant, high availability cloud infrastructure, Delego Core can be scaled globally for high transaction volumes, and provides the ultimate flexibility for each customer.
Certified Integration
Delego Core integrates with SAP ECC, CRM, Biller Direct, S4HANA, and Hybris, and is SAP CA-PCI Certified (Cross Application Payment Card Interface).  Our unique architecture leverages SAP as the system of record, eliminating the need for additional transactional databases and complex reconciliations.
Proprietary Tokenization
As a PCI DSS Level 1 Certified service provider, Delego Core utilizes our proprietary, processor-neutral tokenization technology to secure your payment landscape and ease the burden of PCI compliance.
Delego Secure for SAP
Intercept sensitive payment card data before it enters your enterprise systems or applications. Utilizing a seamless workflow from within SAP, card data is captured and stored in Delego's secure cloud. In its place, a secure token is saved in SAP which can be utilized for authorization, settlement, or stored on a customer master for future use.
Rate Optimization
Delego Core is configurable to pass Level 2/3 data, providing merchants with a significant opportunity for interchange rate optimization. Local acquiring and settlement through our unmatched processor ecosystem means you can access global markets without incurring foreign exchange and cross-border interchange fees.
Ready to get started?
Let's talk about how Delego can help your business.
Delego: Securing the Future of Enterprise e-Payments
Delego named Top 25 SAP Solution Providers 2017 in CIO Application. Read our cover story.